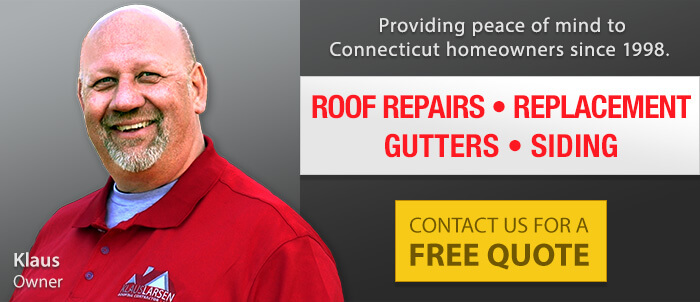 Expert Roofing Services near Hartford, New Britain, Bristol, Manchester, Middletown, Norwich
Install a new roof or repair a current one with a reliable, experienced CT contractor
What to expect with Klaus Larsen LLC:
On-time and on-budget project completion
Property protection
Professional, knowledgeable technicians
Licensed and insured
No-trace clean up procedure
Satisfaction guaranteed!
Without a roof, your home really serves no function. It can't protect you from anything. But a faulty roof can be just as dangerous as having no structure at all. The elements can still penetrate the interior of your home.
You're also stuck knowing that things can only get worse, leaving you with an unsettling feeling about the safety of your home for the future.
When it comes to roofing services, only the best can save you from trouble down the line. Klaus Larsen LLC has over 15 years of experience in all things roofing related. We work with a variety of materials in order to help as many people as possible, and we are adept in utilizing the tools we've been given.
On top of the premiere work we do, we are also completely customer oriented and strive for 100% customer satisfaction. When you become a customer with us, you're part of our family for life.
We will always be there to solve any concerns that may arise. And our friendly, professional technicians will put you at ease every time they arrive on your property! Take a look around and see what we can do for you.
Recent Videos Testimonials
Is your roof in disrepair?
Klaus Larsen LLC is skilled in completing new roof installations, as well as repairs and replacements of existing structures. Our certified technicians will inspect your roof and assess the work required. Call us at 1-860-563-7661 or contact us online to schedule an appointment today! We provide no-cost, no obligation quotes to residents of the following cities and areas nearby: Hartford, New Britain, Bristol, Manchester, Middletown, Norwich.
High-quality roofs will protect you for years to come
Klaus Larsen LLC is a full-service roofing contractor, meaning we can do any job from a new roof installation to replacements and repairs. You won't have to hire any company other than us. We have experience with a multitude of roofing materials, from asphalt, wood, solar and energy efficient shingles to other types of roofing, such as rubber and composite – and more!
All of our products are the best available, guaranteeing that your new roof will remain in great condition for years to come. Klaus Larsen LLC will even make sure you are comfortable with the cost of your roof repair before any work is started.
We will help you recover from hail damage and wood rot issues along with general maintenance, leaks, or new roofing needs. We are also skilled with ridge vents and ventilation. Klaus Larsen LLC is proud of our prowess in the roofing industry, and we are excited to share our solutions with you – because ultimately, we know we are ensuring a better life for you, and there is nothing we value more.
Siding and gutters complete your home's exterior
On top of our proven roofing services, we are also proud to offer siding and gutter options to add beauty, value, and protection to your home. Gutters help your roof complete its job by directing water away from your foundation, but they are often overlooked and can face years of clogging and abuse. Our technicians can install new gutters and gutter guards for your home.
Our vinyl, wood, and cedar siding is durable, easy to maintain, and will help your home stand out in your neighborhood. Colors and styles can be customized to suit your exact needs and tastes. When top-quality roofing, gutters, and siding work together as a system, your home's security is sure to improve!
Don't hesitate – restore your roof today!
Recent Customer Reviews
By Christopher
Bethany, CT

"if you are looking for a roofing company that is honest fair and great at what they do, look no further! Call Klaus Larsen. You..."

By Thomas M.
Berlin, CT

"Even my neighbors were impressed with how incredible, neat and efficient your crew was"

By Marcy M.
New Britain, CT

"Thank you for your services and God bless everyone"

By David P.
Higganum, CT

"Except for a couple instances of missing j-channel, the complex roof job was simply great."

By Karen T.
West Hartford, CT

"Working out the financing made the impossible, possible. Thank you."

By Debbie V.
CT

By Charles W.
Newington, CT

"Klaus made a presentation that convinced me that he and his company were going to do an excellent job. I had a gut feeling and..."

By George J.
Wethersfield, CT

"Again MIKE was there for us to solve any problem we had MANY THANKS TO MIKE"

By Pat
Wethersfield, CT

By Robert C.
Wethersfield, CT

"Incredibly efficient, all services completed well and as promised"

By Casey N.
Glastonbury, CT

"One thing I liked about Klaus, compared to others, was that his price included all materials and repairs which might need to be..."

By Grant W.
Glastonbury, CT

By Juri N.
CT

"enthusiastic, helpful, appeared to know their individual responsibilities"

By Homeowner
CT

By James
East Lyme, CT

"Thanks for the great work."

By Louis S.
Manchester, CT

"Klaus may not be the least expensive in the business and that's fine,you usually get what you pay for, quality and experience are..."

By Peter T.
Vernon, CT

By Horace R.
Manchester, CT

By Ivy L.
South Windsor, CT

By Jeffrey A.
Windsor Locks, CT

By Peter M.
Salem, CT

"Man who came to the house was extremely knowledgable and very polite."

By Gil S.
Hebron, CT

"Referred by Earthlight Technologies, which is doing our solar installation."

By Bryan D.
New London, CT

"We are hoping this works. No leaks so far so all is good. We will keep Mike informed to see how it goes.Thanks again :)"

By Heather D.
New London, CT

"We used Klaus Larsen Roofing to put on a new roof in 2015. We sold our house a few months later. Our new house had an active..."

By Carl A.
Andover, CT

"3 car garage was re roofed in less than a day in January. Thought I would have to wait until spring."

By Margaret R.
Groton, CT

"Roof completed on time as promised. Clean up was thorough. Roof looks great."

By Tom P.
Lebanon, CT

By Christine C.
Coventry, CT

"The foremen for the construction phase was Steve Rochette. Working with him was a youg man by the mane of Phill. There was also..."

By Gary D.
Coventry, CT

By Ed C.
Coventry, CT

"Owens Corning top rated contractor; Owens Corning Warranty & product system; Klaus Larsen's systematic approach; price..."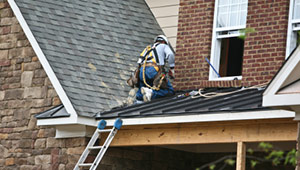 If you choose Klaus Larsen LLC, we will help you determine whether you need a full replacement or repairs to your current structure.
Unfortunately, the problems you are experiencing with your roof can be very dangerous. Nothing other than service performed by an experienced contractor will reverse your fortunes and protect you from severe weather and the world outside. And waiting to complete repairs will only compound the issues, costing you more time and money in the long run. Before hiring a roofer, be sure to contact your insurance provider to find out if your homeowner's policy will cover any of the damage.
Call us at 1-860-563-7661 or send us an email to schedule an inspection today! We are locally owned and operated and work hard to achieve total customer satisfaction. We maintain real, current knowledge of our trade, and our expertise allows us to guarantee our customers' safety for life.
We provide Free Estimates for all work needed to install, repair, or replace your roof. Our services are available to residents throughout Central and Eastern Connecticut, in these cities: Hartford, New Britain, Bristol, Manchester, Middletown, Norwich, Tolland, Groton, East Hartford, Enfield, Vernon Rockville, Glastonbury, East Hampton.
Looking for a price? Get a no cost, no obligation free estimate.