Roofing Sustainability & Shingle Recycling from Klaus Larsen LLC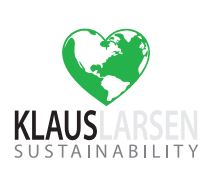 Part of the Klaus Larsen LLC mission is to leave the world a better place, which is something we take to heart. We feel it is important that we work to improve our habitat the best way we know how, through the industry that we know best.
Our sustainability efforts begin in the office, where we make sure that paper, plastic and cardboard are separated from trash. Very little garbage is actually garbage, so we ensure that a minimal amount of waste makes it to the bin. We then utilize the single stream style recycling at our local transfer station, on a weekly basis.
A substantial part of roofing involves the disposal of old materials, after they're torn off. This includes dumpsters full of shingles, nails, plywood and underlayment materials. At Klaus Larsen LLC, we want to make the "everything goes" dumpster haul a thing of the past. One of our goals of 2016 is to incorporate recycled freight containers as designated, compartmentalized waste depositories.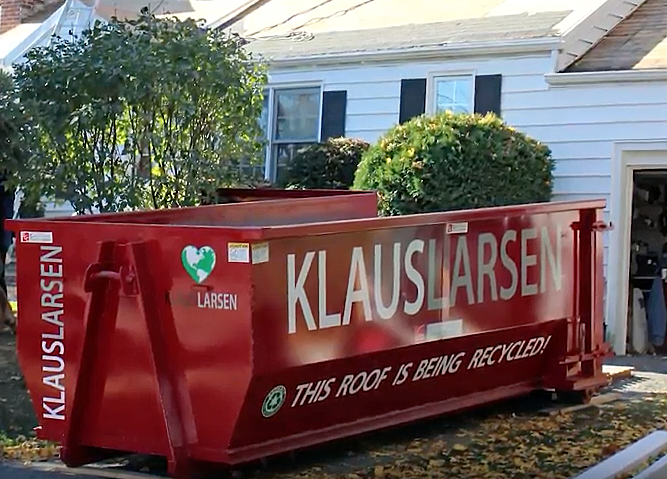 These containers will turn the recycling of our material waste into a completely streamlined process.
Asphalt shingles can be repurposed as roads, so instead of just throwing away your old roof, you can ride your bike on it! We've been working very closely with our primary materials provider, Owens Corning, on this.
Owens Corning's commitment to environmentally friendly roofing
It is also vital that when we install new roofs, that we are using materials that are made sustainably. Owens Corning Roofing and Asphalt LLC is the first roofing manufacturer to establish a program for recycling shingles. In 2014, approximately 1.2 million tons were recycled, bringing their total since program inception to 2.9 million tons of shingles recycled through their Shingle Recycling Network, the equivalent of over approximately 950,000 roofs.
Every recycled roof is comparable to recycling more than 100 percent of a year's worth of household waste. The recycled shingles provide oil in the form of asphalt for beneficial reuse typically in paving. Owens Corning is also among the biggest recyclers of glass in the world, using over 1 billion pounds annually of curbside consumer containers and pre-consumer recycled glass.
Owens Corning is highly dedicated to biodiversity. They are committed to reducing their environmental footprint as evident by their aggressive 2020 footprint reduction goals, growing their handprint through initiatives like their external partnerships. They focus on understanding and increasing their positive impact and fulfilling their UN Global Compact commitment.
Owens Corning established its first set of 10-year footprint reduction goals in 2002. Having significantly reduced their environmental footprint by the end of 2010, they established a new set of footprint reduction goals for 2020.
These new goals raised the bar on their commitment to sustainability and reflect an increasingly holistic approach that encompasses their environmental footprint, the attributes of their products, and their desire to affect change by partnering with their customers and suppliers to deliver sustainable solutions. In October 2015, Owens Corning announced it established new 2020 sustainability goals to reduce greenhouse gas intensity by 50% from its 2010 baseline and reduce toxic air emissions intensity by 75% from its 2010 baseline.
By taking these steps, it is our belief that as Klaus Larsen LLC builds and improves, we will also preserve our environment. One roof at a time.
Looking for a price? Get a no cost, no obligation free estimate.