Gutter Guard Installation in Granby, Bloomfield, & Nearby
Lifetime no-clog gutter guards in Connecticut & Rhode Island
Gutter Shutter gutter guards are made of durable aluminum with a guarantee to never clog.
Gutter guards, also known as gutter covers, are essential to keeping pine needles, leaves, twigs, insects, & other debris out of your rain gutters so they can operate at their highest efficiency. There are plenty of gutter safeguard options on the market designed to keep debris out, but none of the options work like Gutter Shutter.
Klaus Larsen LLC installs the Gutter Shutter system, which includes gutter guards made of durable aluminum, guaranteed to never clog. Schedule your free gutter and gutter cover estimate today in Granby, Bloomfield, New London, Canton, Simsbury, Farmington, Avon, New Britain, Providence, Hartford, and nearby!
Why do I need gutter guards?
Gutter guards allow your gutter system to work more effectively while keeping your home safe from costly damage. Installing gutter covers protects your gutter system from blockages created by a build-up of leaves, twigs, and other debris. Preventing clogged gutters ensures water is properly diverted away from your home, protecting it from:
Roof damage
Siding damage
Foundation damage
Basement flooding
Rotting fascia & soffit
Mold & mildew
Pests
And more
Investing in gutter covers not only saves you time and money on repairs and maintenance but can also increase the value of your home.
Compare Gutter Guards
Gutter guards are a crucial element of an efficient gutter system. When your gutter covers fail to do their job, debris can build up and become stuck inside. As a result, water isn't able to drain properly, which can cause significant water damage to your home's roof, foundation, and landscaping. Choosing high-performance, durable gutter covers is the best way to ensure your gutter system works as it should. Check out the guide below to see how Gutter Shutter compares to different types of gutter guards.
It's no secret that you want your gutter guards to perform well for years to come. The chart above evaluates gutter covers in different categories based on their long-term performance. Gutter Shutter gutter guards outperform the other types of covers in every category, making them the ideal choice!
Clogged gutters in Eastern Connecticut & Rhode Island?
Have your gutters lost their ability to direct water off of your roof and away from your home and foundation? Clogged gutters can lead to a wide range of issues for your Eastern Connecticut & Rhode Island property.
Dangers of Clogged Gutter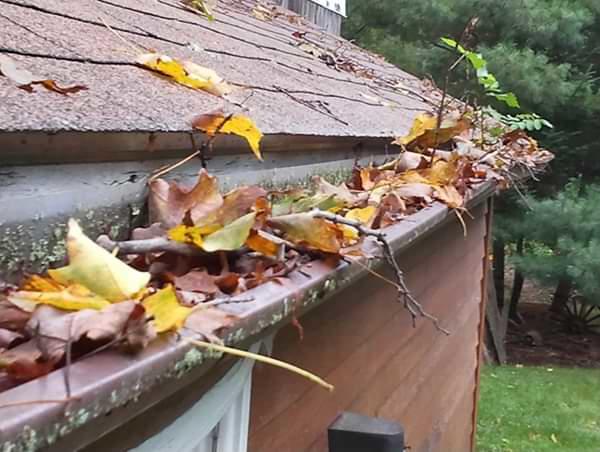 Clogged gutters cause damage to your fascia, siding, and roof, and attract insects and pests.
Clogged, heavy gutters may rot wooden siding and fascia, leading to lower indoor air quality and mold growth within the home.
Pests are more likely to inhabit a clogged gutter with stagnant, restricted water flow. Decaying leaves create a breeding ground for mosquitoes and other unwanted insects.
Ineffective downspouts and clogged gutters make foundations more vulnerable to damage and flooding.
Damage to your landscape may occur as water bypasses clogged gutters and floods gardens and hardscapes below.
Ice dams and icy sidewalk conditions may occur as snow and water pool due to a clogged drain.
Problems With Traditional Gutter Covers
Traditional gutter protection products require regular cleaning to avoid clogs, mold growth, insect infestation, and other unwanted symptoms.
Gutter screens limit the flow of both debris and water, requiring manual cleanouts to avoid seedling growth and insect infestation.
Gutter filters quickly clog, defeating their purpose. Regular brush cleaning is needed to avoid mold growth and other damage.
Gutter covers are installed under shingles, lack curb appeal, and often void roof warranties.
Many all-in-one systems are designed to fail, lacking adequate support and protection, leading to clogs that are more difficult to clean.
The Gutter Shutter Solution
Wide-mouth outlets and high-back gutter troughs protect your gutters! Our gutter guards are 6" which helps to keep out debris while still allowing maximum water flow.
Klaus Larsen LLC has a proven all-in-one solution to replace those ineffective gutter covers, complete with a Lifetime No-Clog Guarantee! Our gutter covers come complete with small, strategically-placed perforations to capture rainwater and keep debris out. Water flow isn't constricted, even during heavy rainfall, so runoff is kept away from your roof, siding, and foundation.
Gutter Shutter gutter guards are 6" where the standard is 5", having the larger gutters allows for a larger water flow. They keep out leaves, twigs, pine needles, moss, dirt, mold, insects, and pests so you won't have to climb a dangerous ladder to manually remove debris. Klaus Larsen LLC will install the right gutter covers, gutters, end caps, downspouts, and extensions to protect your home and property.
Free gutter guard estimates in Granby, Bloomfield, New London, & nearby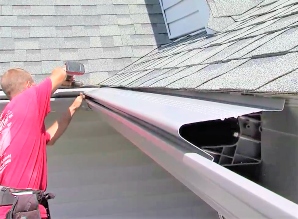 Klaus Larsen LLC gutter guards never clog or leak.
Don't be caught off guard with faulty gutter guards! The Gutter Shutter complete gutter system includes gutter covers, gutter downspouts, and premium-grade aluminum gutters, guaranteed to never pull away from your home or clog.
Stop letting leaves, debris, and other unwanted items clog your gutters and jeopardize the safety and value of your Bloomfield home! Get in touch with Klaus Larsen LLC today for premium, expertly-installed cover gutters throughout Bloomfield, Granby, New London, and nearby.
Looking for a price? Get a no cost, no obligation free estimate.