Commercial Roofing Contractor in Granby, Bloomfield and Throughout Connecticut & Rhode Island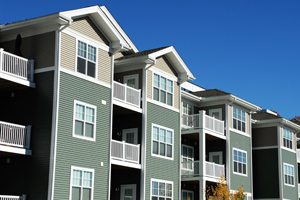 Multi-family housing. When serious roof leaks or storm damage occurs, we work quickly to keep tenants safe.
Quality solutions, fair prices & quick response to all your roofing needs
Why worry about roofing? In far too many cases, a roof doesn't get any attention until water begins leaking into the building. This is especially true with roofs of commercial buildings, where flat roofs and parapet walls truly put roofing issues out of sight and out of mind.
At Klaus Larsen LLC, we urge all building owners NOT to ignore roofing problems that can easily result in substantial damage to the structure and its contents. Our expert technicians are ready to inspect your roof and provide you with a detailed assessment of its condition. If you require roof repairs, roof replacement or a new roof, we want to be your go-to contractor for all commercial roofing work. You can always count on the best value here as we provide quality service at a low cost.
Call Klaus Larsen LLC to set up a consultation for commercial roofing replacement, repair, or installation in New London, Bloomfield, Granby and nearby.
Our commercial roofing services in Eastern Connecticut & Rhode Island
Roof inspections
Roof replacement
Reroofing
Roof repair
Roof maintenance
Flashing repair & replacement
Flat, low-slope and sloped roof expertise
All roofing materials & treatments available
Free estimates for all roofing work
Why choose us as your commercial roofing contractor?
Every community has plenty of roofing contractors that claim to be the best. We want to earn your commercial roofing business the old-fashioned way – by exceeding your expectations for responsive, top-quality service with some of the best value on the market. Here's what you can count on when you call on Klaus Larsen LLC:
Courteous professional service. At Klaus Larsen LLC, we recognize that your commercial property is a valued asset that plays a major role in your business success. Our pledge is to always respond quickly to your commercial roofing needs and to deliver the best value and highest quality every time at a reasonable cost.
Well-trained workers. We recruit conscientious, dedicated team members, train them well and make sure they have the skills to do top-quality work.
Excellent equipment. We are constantly updating our tools, trucks and other equipment to ensure that every crew can work safely, efficiently and to top industry standards.
Access to the best roofing materials. We deal with major building material manufacturers to make sure we have access to the best roofing products at competitive prices.
If you are looking for a Eastern Connecticut & Rhode Island commercial roofing contractor, call Klaus Larsen LLC or email us today to make sure you get the best value in commercial roofing. We offer free estimates on all our work in Granby, Bloomfield, New London, Simsbury, Canton, Avon, Farmington, Hartford, New Britain, Providence and throughout the surrounding areas.
Looking for a price? Get a no cost, no obligation free estimate.