Replacement Windows & Doors Contractor Serving Eastern Connecticut & Rhode Island
We install quality replacement windows & entry doors in Connecticut & Rhode Island
Signs that your windows or doors may need replacing
Difficult to open and close
Drafts coming from around windows & entry doors
Condensation on glass panes
Hard to clean
Peeling or chipping paint
Excessive outside noise
Damaged seal or caulking
Do you have old, drafty windows that are hard to open? Are you beginning a remodeling project on your existing home or building a new one? If so, replacement doors and windows would be a great addition to your home. New windows and doors offer a number of benefits, and they are an essential part of any home remodel.
Klaus Larsen LLC installs high-quality replacement windows and doors in a variety of styles and materials. Our experienced professionals will work with you to determine the best fit for your home's needs and appearance, and we will provide you with a hassle-free installation.
If you want to upgrade your home with new windows and doors, call us at 1-844-640-9774 today or contact us online. We offer free estimates on all our work in Granby, Bloomfield, New London and the nearby areas!
Benefits of replacing windows & doors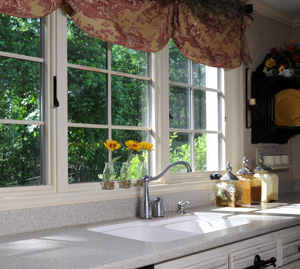 Gain natural light. Replacement windows will increase the light and airflow in your home.
Replacing windows and doors has several major benefits for your home, including:
Improved home comfort: Replacement windows and doors will eliminate drafts that enter your home, keeping your home at the temperature you want and ensuring a consistent temperature throughout the house.
Increased energy efficiency: By eliminating these drafts, new windows and doors also help make your home more insulated and your heating and cooling system more efficient, saving you money.
Enhanced safety and security: If your windows or doors don't fit properly, they could be susceptible to being forced open. Properly-fitted replacements will reduce this risk significantly.
Reduced outside irritants: New windows and doors will help keep indoors and outdoors separate, reducing the amount of dust, allergens, insects, and noise that enter your home.
Increased home value: Upgraded windows and doors will not only improve your curb appeal, but they can also raise your property value.
We will help you find the right type of windows and doors for your home's needs, ensuring that you get the perfect fit for your design.
Types of windows & doors
At Klaus Larsen LLC, we offer a wide variety of window and door styles and materials. Our available options include:
Vinyl doors
Aluminum doors
Steel doors
Fiberglass doors
Bay & bow windows
Vinyl windows
Double-hung windows
Casement windows
Entry doors
And more!
Choose professional window & door replacement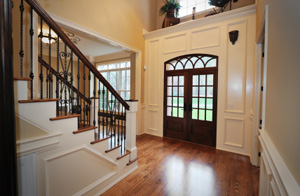 Great first impression. Replacement doors give your entryways new life.
Choosing the right contractor is just as important as finding the right windows and doors. Proper installation will help prevent air infiltration and costly water damage to your home. If installed incorrectly, your windows may not operate properly. During your free in-home appointment, your window specialist will ask you what you're looking for in a window or door, show you samples and take necessary measurements. You will then receive a free quote for your window and/or door replacement project.
The experts at Klaus Larsen LLC will help you find the perfect solution for your home and give you a high-quality installation. Call us today to get started with a free estimate in Granby, Bloomfield, New London, Canton, Simsbury, Farmington, Avon, New Britain, Providence, Hartford and the surrounding areas!
Looking for a price? Get a no cost, no obligation free estimate.