Gutter Installation in Eastern Connecticut & Rhode Island
Gutter installation & gutter replacement company serving New Britain & nearby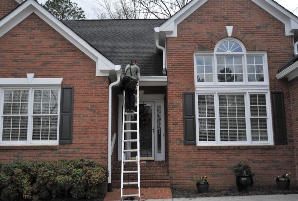 Expertly installed Gutter Shutter gutter replacement- never clogs or pulls away from your home!
Without an effective gutter system, you may be leaving your roof and home vulnerable to costly damage. When gutters and downspouts fail to properly drain away rain, leaves, and other debris, you may notice water damage to your roof and siding, flooding in your home, foundation damage due to pooled water, and many other unwanted signs of a gutter problem.
Klaus Larsen LLC offers seamless gutter installation, gutter replacement, and gutter repair throughout Eastern Connecticut & Rhode Island. We install Gutter Shutter premium aluminum gutter systems, guaranteed to never clog or pull away from your Connecticut & Rhode Island home. Gutter Shutter is a proven replacement gutter system featuring a range of benefits for your home and roof. Learn more about the Gutter Shutter system, and schedule your free estimate for gutter installation and repair in New Britain, Hartford, Newport, and nearby!
Gutter Shutter Features:
Gutter Shutter is a patented gutter system guaranteed to never clog, sag, or pull away from your home
Gutter Shutter eliminates the need for homeowners to climb dangerous ladders to clean out their gutters
The Gutter Shutter system is constructed with premium-grade aluminum that won't flex under heavy loads, wide mouth outlets, double-the-size downspouts, and more effective gutter extensions (minimum discharge 10 ft away from your home)
Design includes exclusive "high-back" gutter trough to prevent water from entering behind your gutters
Gutter Shutter is available in a variety of colors to complement your home
Get a free gutters & gutter guards estimate in Eastern Connecticut & Rhode Island
Schedule a free gutter and downspout installation estimate with Klaus Larsen LLC today. We offer gutter repair, roof replacement, roof repair, and gutter system installation throughout Eastern Connecticut & Rhode Island.
Call us at 1-844-640-9774 or complete our online booking form to schedule your free estimate in Hartford, New Britain, Newport, Middletown, Bristol, Tolland, Glastonbury, East Hartford, Enfield, Triverton, and nearby in Connecticut & Rhode Island.
Looking for a price? Get a no cost, no obligation free estimate.