Roof Repair Contractor in Connecticut & Rhode Island
Local roofing repairs in Bloomfield, Granby, New London & nearby!
If you choose Klaus Larsen LLC, we will help you determine whether you need a full replacement or repairs to your current structure.
Roof repair and roof maintenance go hand in hand, as good maintenance will limit the scope of repair jobs. Minor tasks such as sealing leaks and replacing damaged shingles will preserve the life of your roof and maintain its quality. Additionally, it's often possible to put off the major expense of total roof replacement by making small spot repairs as necessary.
Whether you need roof repairs or a full roof replacement, we are the local Connecticut & Rhode Island roofing contractor you can trust. Klaus Larsen LLC serves cities like Hartford, New Britain, Providence, and Newport, and the Eastern Connecticut & Rhode Island area, providing roof replacements and repairs done by a certified, experienced team of roofers.
If you are experiencing problems with your roof, a thorough inspection, along with our roofing services, will give you the peace of mind of knowing that your roof is prepared to withstand any type of weather.
Schedule a Free Repair Estimate
Get a FREE Estimate
Want to schedule an inspection of your roof? Contact us to meet with an expert roofing contractor who will identify your roofing problems, determine the best repairs and provide you with a free estimate for all work.
We specialize in identifying roofing problems!
Common Types of Roof Damage:
Roof leaks
Missing/cracked/curling shingles
Dark spots on the roof
Blistering of paint on interior & exterior
Wind & hail damage
See more common roof problems.
Everyone knows the roof of their house is important, but it's easy to forget just how important until something goes wrong. Don't wait until there's a roof leak, torn shingles, or other damage to think about the condition of your roof.
Even when there's no evidence of roofing problems, it's smart to have your roof inspected every year by an experienced roofing contractor. This is especially true after a major storm which is very likely to cause damage. The last thing you want is a roof leak that can damage your home and ruin your possessions.
Whether you are upgrading the look of your home with new roof installation or replacing missing or broken shingles, the expert team of roofers at Klaus Larsen LLC of Connecticut & Rhode Island can help.
Roof concerns go beyond the roofing material
When a roofing contractor evaluates the condition of your roof, the primary concern will be the roofing shingles or other finished roofing material. But before deciding whether a new roof installation is right for you, there are some other areas of the roof that should also be inspected.
Make sure that your roofer also inspects the following elements:
Gutters and downspouts. Basements can flood and exterior details can be damaged if gutters and downspouts don't move water off the roof and away from the foundation. Prevent this problem by making sure your gutters are free of clogs, your downspouts are connected securely, and any long gutter runs are pitched properly to minimize overflows.
Roof flashing. The roofing contractor should check the flashing around chimneys, vent stacks, and skylights, as well as step and valley flashing.
Skylights. During a roof inspection, it's also smart to inspect the glazing seals between the skylight glass and the aluminum glazing bars. Leaks in these areas can often be repaired with special sealant.
Roof ventilation. Soffit vents and ridge vents rarely require maintenance, but gable vents can give insects and rodents access to your attic if they are not properly screened. These vents may need to be inspected from inside your attic as well as from the house exterior.
When an emergency happens, we're here to help
Even excellent maintenance work can't prevent roof damage that occurs because of severe weather and freak accidents. Emergency roof repairs are often necessary when a building is exposed to high winds and impacts from falling trees.
Of course, some emergency roof repairs, including roof leak repair, can be avoided by preventative work such as roof snow removal to prevent ice damming and roof collapse due to snow loading. When emergency roof repairs are necessary, call Klaus Larsen LLC for a fast, effective solution.
Benefits of regular roof maintenance
The type of roofing material creates different challenges for roof repair work. For example, asphalt shingles, wood shingles, concrete tiles, and clay tiles often have damage to individual shingles or tiles, meaning those pieces need replacement. Metal roofing generally comes in much larger panels, so those are only replaced when spot repairs aren't effective. Finally, flat roof repair is an entirely different process due to the rolled material and liquid waterproofing compounds.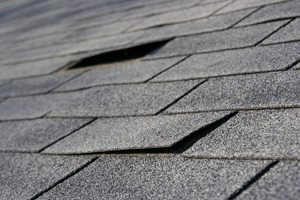 Lifting shingles. Shingle lifting is a typical roof problem that should be repaired to prevent roof leaks and water damage.
No matter what type of roof you have, regular maintenance is very beneficial. There are several key reasons to perform consistent maintenance:
Prevent leaks, drafts, and other exterior problems
Stay aware of potential issues and fix them before they become major
Prevent expensive repairs in the future
Maintain appearance
By performing regular maintenance, you can keep your roof in good condition and prolong its lifespan, saving you the hassle and expense of full roof replacement.
Get expert roof repair & maintenance with Klaus Larsen LLC
Whether your roof needs to be repaired or replaced, Klaus Larsen LLC provides quality roofing solutions at a fair price. Our roofing repairs are designed to restore the overall structural integrity of your roof. Call us at 1-844-640-9774 or contact us online for a free estimate for roofing repairs throughout Simsbury, Canton, Avon, Farmington, Hartford, New Britain, Providence, and nearby.