Roof Repair Contractor Near Hartford, New Britain, Newport
Common Types of Roof Damage:
Roof leaks
Missing/cracked/curling shingles
Dark spots on the roof
Blistering of paint on interior & exterior
Wind & hail damage
See more common roof problems.
Roof repair and roof maintenance go hand in hand, as good maintenance will limit the scope of repair jobs. Minor tasks such as sealing leaks and replacing damaged shingles will preserve the life of your roof and maintain its quality. Additionally, it's often possible to put off the major expense of total roof replacement by making small spot repairs as necessary.
Whether you need roof repairs or a full roof replacement, we are the local roofers you can trust. Klaus Larsen LLC serves the Eastern Connecticut & Rhode Island area, providing roof replacements and repairs done by a certified, experienced team of roofers.
If you are experiencing problems with your roof, a thorough inspection, along with our roofing services, will give you the peace of mind of knowing that your roof is prepared to withstand any type of weather.
Schedule a Free Repair Estimate
Get a FREE Estimate
Want to schedule an inspection of your roof? Contact us to meet with an expert who will identify your roofing problems, determine the best repairs and provide you with a free estimate for all work in Hartford, New Britain, Newport, & nearby.
Before and After
Before

After

These owners were having Ice Dam leaks in the back of their house. The old shingles were replaced with Onyx Black duration shingles and new Ice & Water barrier and Synthetic underlayment. Call today for a free price roofing estimate - no matter the season!

Before

After

The chimney on this Avon, CT home was leaking so the Klaus Larsen team came out and replaced the old chimney flashing with brand new, beautiful copper flashing! Owens Corning Weatherlock G Ice & Water shield was installed around the perimeter of the roof to prevent moisture from coming into the interior of the home! The difference is spectacular!

Before

After

In this house in Haddam, CT the owners were experiencing several leaks in the back of the house. Upon further inspection several pieces of plywood were found to be very rotten and the entire back roof needed to be replaced. Along with the roof, the Fascia board was taken off and replaced with a new composite fascia board.

Before

After

This colonial home in East Hartford, CT, received a garage roof repair along with an installion of new gutters, siding, fascia, and rake trim. Damaged wood decking was replaced. Three rows of Owens Corning Weatherlock G Ice & Water was laid on the roof before the placement of Owens Corning Duration Oakridge shingles in the color of Estate Gray. The gutters used were aluminum seamless gutters in the color of White! Owens Corning Purpose-Made Starter Shingles were installed along the outside perimeter of the roof and a window was completely removed from the side of the garage. This 1966 home is ready to shine!
When an emergency happens, we're here to help
Even excellent maintenance work can't prevent roof damage that occurs because of severe weather and freak accidents. Emergency roof repairs are often necessary when a building is exposed to high winds and impacts from falling trees.
Of course, some emergency roof repairs, including roof leak repair, can be avoided by preventative work such as roof snow removal to prevent ice damming and roof collapse due to snow loading. When emergency roof repairs are necessary, call Klaus Larsen LLC for a fast, effective solution.
Benefits of regular roof maintenance
The type of roofing material creates different challenges for roof repair work. For example, asphalt shingles, wood shingles, concrete tiles, and clay tiles often have damage to individual shingles or tiles, meaning those pieces need replacement. Metal roofing generally comes in much larger panels, so those are only replaced when spot repairs aren't effective. Finally, flat roof repair is an entirely different process due to the rolled material and liquid waterproofing compounds.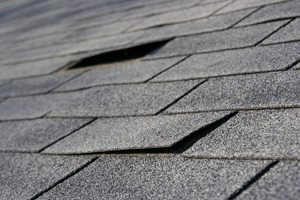 Lifting shingles. Shingle lifting is a typical roof problem that should be repaired to prevent roof leaks and water damage.
No matter what type of roof you have, regular maintenance is very beneficial. There are several key reasons to perform consistent maintenance:
Prevent leaks, drafts, and other exterior problems
Stay aware of potential issues and fix them before they become major
Prevent expensive repairs in the future
Maintain appearance
By performing regular maintenance, you can keep your roof in good condition and prolong its lifespan, saving you the hassle and expense of full roof replacement.
Get expert roof repair & maintenance with Klaus Larsen LLC
Whether your roof needs to be repaired or replaced, Klaus Larsen LLC provides quality roofing solutions at a fair price. Our roofing services are designed to restore the overall structural integrity of your roof. Call us at 1-844-640-9774 or contact us online for a free estimate for roofing repairs throughout Bristol, Middletown, Glastonbury, Tolland, Triverton, East Hartford, Enfield, New Britain, Hartford, Newport, and nearby.