Professional Roof Replacement in New Britain, Bristol, and Central and Eastern Connecticut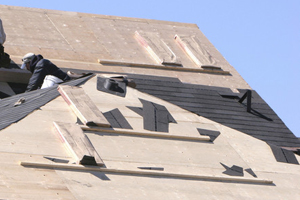 A roof replacement can be a more cost-efficient solution that major repairs.
If it's time for a replacement roof, we're the company to call
From a major storm to normal wear and tear over the years, there are many causes of roof failure. All roofs eventually need replacement. But the longer you live with a faulty roof, the more damage you home may suffer, putting you and your family at risk.
Klaus Larsen LLC specializes in roof replacements that make use of the industry's best materials. Our high-quality roofs are built to last, and we can help you choose the option that makes sense for your home. When we're finished, you'll be left with a beautiful, strong new roof that will add value and protection to your home!
To discover if your home is in need of a new roof or any other roofing services, call in the professionals here at Klaus Larsen LLC for a free estimate! We serve customers in Hartford, New Britain, Bristol, Manchester, Middletown, Norwich and areas nearby.
Before and After
Before

After

We are your local roofing contractor in Westport, CT. Call today if you're looking for a roof inspection by a professional. This family is now protected for many years with a new Owens Corning roofing system.

Before

After

Winter weather does quite a number on your roof, but don't wait until winter is over to fix the damage. We work in the snow, to get you the protection you require as soon as it's needed. This ranch received a new roof with Owens Corning's patented SureNail technology along with all new ventilation. Call Klaus today and he'll give you a free estimate.

Before

After

Part of our process is ensuring the well-being of the rest of your home and not just the top layer. At Klaus Larsen, we pride ourselves on total customer satisfaction. We traveled to Torrington, CT to finish the roof of this home. A traditional Owens Corning Duration Onyx black shingle was used here. One of the reasons we love working with this product is its SureNail technology, not offered by other manufacturers. The three layers of reinforced, woven fabric makes for a roof with ultimate staying power. We know you'll love this shingle as much as we do.

Before

After

This large home with a hipped style roof had two active leaks in their house. The owners, after looking at their options, decided to have the entire roof replaced with Slatestone Gray Duration shingles. These shingles are durable and come with a full 50-year warranty and 25 years workmanship coverage through Owens Corning Platinum Contractors.

Before

After

New roof installed on main house and garage with Owens Corning Duration Shingles (Color: Slatestone Gray). This project included installing a new vent for the bathroom exhaust and new gutter guards.

Before

After

The red-sided house in Higganum had 2 layers or shingles on the main house, a flat roof section, and a shed that were all replaced on the same day.

Before

After

The shingles here were visibly deteriorated and peeling from the sheathing. We gave this home new life by installing Owens Corning Duration Estate Gray shingles. Don't hesitate to call us for a free estimate.

Before

After

This job was unique in that it was a home that was renovated into an office. The roof had 3-tab shingles that were curling and allowing water to enter. It was only necessary to replace the main roof and not the wrap around porch. Color: Estate Gray

Before

After

We know you take pride in your home, and we have the same pride in the roofs we install. Owens Corning Duration Brownwood Shingles were applied to this house in Avon. We were thrilled with the outcome on this job.

Before

After

We were brought out to the Farmington Valley for this mighty Avon home. Owens Corning Duration Estate Gray shingles were utilized here to completely replace the roof. Klaus Larsen takes on any job, big or small.

Before

After

We recently completed a roof replacement in Avon, CT. This replacement included the entire roof on garage and main house. We removed and replaced the chimney flashing and the existing vent pipe boots. We also installed a new skylight to add new natural light to the home!

Before

After

Ivoryton was once home to a high population of factory workers, and remains one of Connecticut's most historically rich towns. This house exudes the architectural style of a bygone era. When approaching these types of structures, we are very gentle and careful in our workmanship. If you have a home that has been standing for over a century, we can provide the care it needs in revitalizing it with a new roof.

Before

After

At this beautiful natural cedar shake home in Deep River, CT we installed a brand new Owens Corning roof in Quarry Gray. We were able to update the home with new plywood decking and Duration shingles while preserving the natural look of the home. We also replaced the roof on the detached garage and installed a new cupola!

Before

After

Rome wasn't built in a day, but usually Klaus Larsen roofs are. Here was a job we did in West Hartford, CT. Call or e-mail us today, and we'll come out to give you a free estimate on your home.

Before

After

This West Hartford house underwent several renovations, and we were enthusiastic about providing a roof to top off this home makeover project. Owens Corning Designer Summer Harvest Shingles were the perfect touch for their remodeling.

Before

After

Cambridge Super White shingles, by IKO, were the perfect match for this home in West Hartford.

Before

After

Here was a project we accomplished in West Hartford, CT. Extra care was taken to keep the exterior of this home looking clean. Give us a call and we'll give you the attention that has become synonymous with the Klaus Larsen name.

Before

After

Klaus Larsen cares about plants. We always strive to protect any shrubbery or plant life that may be adorning the facade of your home. While removing the old roof, we care for your property with tightly laid tarps. The Owens Corning Summer Harvest Designer shingles look great on this West Hartford home. They complement the paint, the brick entryway and yes, even the burgeoning garden.

Before

After

This lovely home in West Hartford, CT was brought back to life with the deeper hue of estate gray shingles from Owens Corning.

Before

After

This home in Rocky Hill turned out fantastic. Though our crew always works very quickly, they also do a thorough installation and clean up. Most roofs are completed in a day, so you'll return from work to find a brand new home waiting for you. Call us now and we'll give you a FREE estimate.

Before

After

The time had come for a new roof on this Newington, CT home. The Owens Corning Duration Estate Grey Shingles are a classic standby, but they truly look outstanding on this house. Note that we always keep your yard looking as good as it did before we started.

Before

After

We have a reputation for providing outstanding customer service throughout the entire project. This family from Newington are among the many satisfied Connecticut families we have provided roofing for. Klaus Larsen would love to have you on board. Call us today and we'll start with a complimentary estimate.

Before

After

Some jobs have unexpected obstacles, like on this house in Portland. Upon removing the old roof, we found a gaping hole in the original construction. This required a full underlying structure rebuild to make it all one plane. With a foundation now providing support underneath, the finished roof turned out fantastic and much sturdier. We understand that every roof is different, and at Klaus Larsen we are always willing to adapt to unforeseen issues.

Before

After

Here is our crew at work. On this Simsbury home, we installed Owens Corning Duration Onyx Black shingles and replaced all of the skylights. Few roofing aspects are out of our realm. Call us today.

Before

After

This was a project from 2013, that brought us to Wethersfield, Connecticut. Before this home had a Klaus Larsen roof, the day was gloomy and bleak. We installed Owens Corning Onyx Black Duration shingles for the new roof and sunshine came with it. Disclaimer: Our work is not guaranteed to alter atmospheric conditions, but it certainly may help.

Before

After

Here we are in the thick of a project in Wethersfield, CT. The removal of your old roof can be quite the ordeal, but we keep the mess to a minimum with closely placed tarps. Our finished product, with Owens Corning Duration Estate shingles, turned out perfectly. The only thing we leave behind is a great looking, long lasting roof.

Before

After

This home in Old Lyme had an old roof with rotten plywood underneath that needed to be replaced. After we installed the new plywood, the entire roof deck was covered in Weatherlock Flex Ice & Water barrier. Then the new Owens Corning Duration shingles were nailed down (Color: Sierra Gray).

Before

After

This was a beautiful home in South Glastonbury that we paired with a top notch roof. Here we used a Slatestone Gray shingle.

Before

After

The roof here on this colonial home in South Glastonbury was pushing 30 years, with a total of two layers to remove. The customer chose Owens Corning True Def Duration Driftwood shingles, which look awesome with the exterior color of paint! Three rows of Ice & Water shield brought an extra layer of modern protection to this classic style home. We also removed and replaced all of the existing siding and replaced it with new wood clapboard siding.

Before

After

A Condo Association that owned this house in East Hartford called us to replace the roof. They had leaks in the roof and needed a permanent solution. Previously a second layer was installed when the 1st roof started to have problems. Our crews arrived at the home around 7:00 am, tore off the shingles, and were done and cleaned up before the end of the day. We install Ice & Water on every job and above code. We also use synthetic underlayment along side the Ice & Water to protect the plywood. In fact, we replaced all the rotten plywood after the old roof was tore off.
Signs that you may need a roof replacement
Just because your roof isn't working doesn't mean that it will always exhibit the same signs as your neighbor's roof. Different roofs wear in different ways, and the material its made out of plays a part in the kind of damage it can sustain. There are several telltale roofing problem signs to look out for, and some or all may apply to your roof.
A few of these are common sense. If your roof is very old and past warranty, or if your roof is leaking or even allowing sunlight through cracks, you're probably in need of a roofing professional. Other signs include damaged or missing shingles or tiles. Damaged flashing is another good indicator of a roof's condition, but a roofing professional like Klaus Larsen LLC is more likely to spot this than a homeowner.
Roof replacement is often cost effective
Not sure whether roof repair or replacement is the right course of action? Roof repairs are ideal for fixing minor problems that are not likely to recur. But trying to put a band-aid on a huge problem will never work out for your home - or your wallet. A replacement roof is a new shot at safety and stability for your home, and apart from the intervention of natural disasters, it will last for years to come.
Additionally, a replacement roof will add value to your home, which is important if you wish to sell. You'll receive a return on your investment, yet another reason why a new roof may be the more affordable option in the long run.
The right materials make all the difference
Roofs come in many shapes, sizes, and styles. Klaus Larsen LLC is skilled at creating roofs from a wide variety of materials that each offer different benefits to a homeowner. Our types of roofing include:
Asphalt Shingles
Wood Shingles
Rubber Roof
Metal Roof
Flat Roof
Klaus Larsen LLC can solve all your roof replacement needs
Whether a storm or an attempt to sell your home has caused your need for a new roof, Klaus Larsen LLC has the skills and materials you need to create an attractive, effective replacement roof. There's no reason to live in an unsafe home any longer. Schedule a free estimate for roof replacement in New Britain, Bristol, Manchester, Middletown, Norwich, Hartford today!
Looking for a price? Get a no cost, no obligation free estimate.